Wayman has many ministries that you can get involved with to help the church and the community.
Ministry of Music
Maria Nabors is the music coordinator for the ministry of music. She spends many hours working with these choirs and helping the ministry of music grow.
Wayman Church Choir (United Voices): this choir practices every Tuesday night at 7 p.m. If you want to praise the lord in song please come to one of their practices. It's open for any member just come.The president of this choir is Patsy Tittsworth so if you have any questions feel free to contact her.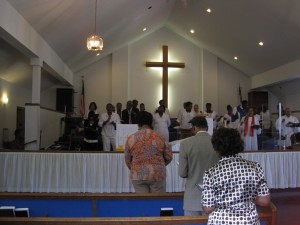 Wayman Male Choir
The Men of Wayman minister in song every 4th Sunday. There practices are held every Saturday at 1:00pm. If you'd like to be apart of this ministry come to practice or reach out to the President Brother Greg Cotton.
Other Ministries

Missionary Society the director is Sis. Shenelle Waters. The Missionaries meet every 2nd Saturday at 1:30 pm. If you'd like to join please attend one of their meetings.
Lay Organization
Lay Organization meets every 3rd. Saturday at 1:30 pm. Sister Tammi Shereff is the president.